The CPT® Editorial Panel is what makes the Current Procedural Terminology (CPT) language both comprehensive and clinically relevant.
Thorough and transparent CPT Editorial Panel process
The CPT Editorial Panel process is designed to be open and transparent. International delegations and representatives are welcome to attend Panel meetings.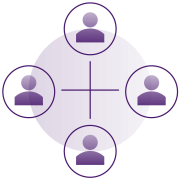 The Panel is independent of any government agency and is authorized by the AMA Board of Trustees to have the sole authority to approve CPT content changes. Panel members are nominated physicians and other health care professionals who are experts in their medical specialty.
The Panel seeks the direct input of practicing physicians, medical device manufacturers, developers of the latest diagnostic tests and advisors from over 100 societies representing physicians and other qualified health care professionals. Together, this spectrum of contributors and the Panel ensure that the latest procedures treating a diverse population of 330 million people are reflected accurately in the CPT code set.
The Panel understands that technology advances quickly. Therefore, CPT codes and related content receive an update annually that takes effect on January 1 of each year. Parts of the CPT code set are updated on a quarterly basis in dynamic areas. Find an advanced look at upcoming CPT changes and examine more details related to the thoroughness of the physician-led CPT Editorial Panel process.
CPT Editorial Panel Meetings
Experience an upcoming CPT Editorial Panel meeting.  Contact us to learn more. 
Upcoming Dates