About CPT® Content  
The CPT code set is more than just a terminology. It is a system for reimbursement, an enabler of research, supports reducing the administrative burden; and more than ever it is a method of accelerating medical innovation.
The standard for communicating health care procedures and services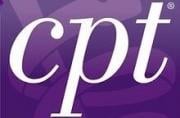 The CPT code set streamlines communication across health care settings and informs the advanced analytics on medical procedures and services. Governments, health care providers, tech vendors and payers utilize the CPT code set within their health management systems.  CPT coding is trusted to support payment processes and inform public health planning and research. A standardized, comprehensive language reduces reporting challenges so providers can unlock administrative efficiencies and productivity while centering care around their patients.    
The CPT code set is the language of medicine today and the code to its future. It is rigorously updated by the CPT® Editorial Panel to align with the dynamics of modern medicine.  The CPT code set adds to the momentum of medical innovation by reflecting the latest health care advancements available to patients.